The True Sonar-Based
End-To-End Bulk Tank
Monitoring Solution
About Vertrax Tank Monitoring Service
Vertrax Tank Monitoring Service is the innovative end-to-end bulk tank monitoring solution leveraging sonar – eliminating the need & limitations of "Read Ready Gauge" monitors. With real-time, always accurate liquid level readings, you're able to improve inventory management & have unmatched delivery forecasting.
Custom Branded Company Portal – Have visibility into all tanks & never have customer run outs.
Vertrax Tank Monitoring Service App – For both suppliers to confirm monitor installation & customers to view their liquid levels.
Custom Branded Consumer App – Consumers can view their account history, place an order, & have direct communication with the supplier.
Want to learn more? Watch our on-demand webinar and learn how our technology is deployed and implemented, the benefits of sonar for tank monitoring, and how it is helping our current partners!
Vertrax Tank Monitoring Service is deployable for: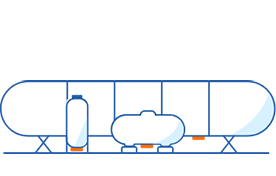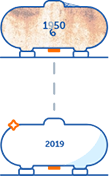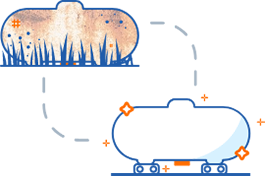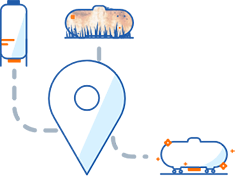 Vertrax's Tank Monitoring product has literally helped us breathe new life into an old tank and make it useful again. We haven't been able to accurately measure this tank for years and planned to get rid of it. Now with Vertrax's Tank monitoring product, we can accurately measure liquid levels on this tank and put it back to use. It's helped save us a lot of time and money having to take physical measurements.
Tank Monitoring Customer
Low-Cost
– One-time deployment fee, extremely low monthly recurring cost, & quick ROI
Sonar Powered Monitors
– Get EXACT liquid level readings & current rate of consumption data without "Read Ready Gauges"
Powered by Amazon AWS
– Your data is secured & always available
Managed Deployment
– Vertrax will plan, manage, & monitor full deployment process
Reliable Device Communication
– Leverage multiple communication methods for failsafe data transmission
Custom Branded Solution
– All equipment & apps with your company branding – driving loyalty & facilitating a closer business to consumer connection
Why choose Vertrax Tank Monitoring Service?
Vertrax is proud to bring the first true sonar tank monitoring service to the market that doesn't rely on "Read Ready Gauges." Our sonar technology measures the liquid levels of tanks rather than the empty space, leading to extremely accurate and consistent measurements.
Turnkey Installation
Managed & deployed by Vertrax with a simple "mag mount" install.

Tank telemetry data is delivered to the AWS cloud via A) a LoRa enabled Amazon Echo customized for the retail fuel marketer; B) a LoRa cell gateway, allowing for quick, easy, and secure transmissions; or C) via Bluetooth connection with the Vertrax app.
For Retail Customers
Always know the levels of your tanks
Improved service quality & convenience
Reduced number of annual deliveries required
Usage analytics -"Will Call" ordering directly from the VTMS app
For Retail Fuel Marketers
Never lose visibility into customer fuel levels
Service the customer better with the custom branded VTMS app
Can be used as a marketing tool
Increased gallons delivered per stop, reducing delivery costs by up to ⅓
Increased customer retention -Proactive preventative maintenance
Convert "Will Call" customers to "Automatic"-Data & analytics for improved inventory planning & purchasing
See How It Can Transform Your Operations